I believe in….
Belief is not contrary to fact. It simply transcends it. To believe something is to know its truth not so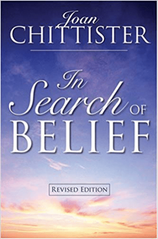 much in our minds but in the center of our souls. 
 
We believe in goodness, for instance, because, however effective evil seems to be, it contradicts the highest aspirations of humanity. We believe in love rather than hate, because love draws out the best in us, while hate feeds on our smallness. We believe in people whose hearts we hold in our hands, whatever the situations that challenge that certainty, because we ourselves are nourished by that relationship. We believe in the spiritual because the material is simply not enough to justify the sense of the unfinishedness of life that lurks in every human heart.
 
In sum, belief is the ability to know what we cannot see. None of our beliefs, if they are really "belief," are sure in the way that chemicals on scales are sure. Belief is sure in the way that truth is sure. It rings in our hearts like tines of crystal.
But belief is not supernatural sleight of hand designed to save us from the exigencies of life. "There are those who say in winter," the Sufi story teaches, "I shall not wear warm clothes. I will trust in God to keep me warm."  But they forget, the story says, "that the God who made winter gave human beings the power to protect themselves from it." Belief is not fantasy. Belief is not an excuse for irrationality. Faith is not what gives us the tricks it takes to control God.
Belief is a basis for personal development and a topographical map of life that signals a way through the valleys and plains, raging rivers and vast oceans of experience in which we grow. Belief makes of life more a quest than a place. Belief is not what makes it possible for us to settle down complacent in our goodness, certain that if we keep the rules we will have life without having to live it. "I went to church every week, I did everything I was told to do, I believed in God," people say. "How could this divorce have happened?" As if belief were some kind of insurance policy against life. On the contrary. Belief is what enables us to weigh our options in the light of what is really real, what is really important and, in the end, stay the course.
                    —from In Search of Belief by Joan Chittister (Liguori)