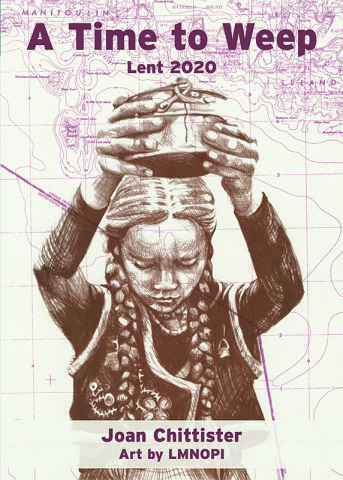 Reflections, actions and resources to accompany Week 1 and Week 5 of A Time to Weep 
by Joan Chittister and reflections from the artist LMNOPI
Week 1: Immigration
Making the immigration/refugee issue a priority for you this Lent
"Migrants are persons…
They are the symbol of all those rejected by today's globalized society…
The weakest and most vulnerable must be helped…
This is a tremendous responsibility, from which no one is exempt
if we wish to fulfill the mission of salvation and liberation,
in which God has called us to cooperate." —Pope Francis
Action on Immigration:
Based on myths detailed below and/or others you research, write a letter to the editor of your local newspaper, or send a few paragraphs to your parish office for insertion in the parish bulletin. Perhaps you can focus on correcting misinformation you have heard spread in your local community.   MYTHS about immigrants:

Immigrants are overrunning our country, and most are here illegally. The percentage of immigrants in the overall population is not much different than many other times throughout our history. Today immigrants make up approximately 13.5% of the total U.S. population. From 1900 to 1930, immigrants made up between 12% and 15% of the population, and similar spikes occurred in the 1850s and 1880s. During those periods immigrants successfully became part of U.S. society, helping to build the thriving and diverse country we have now. There is no reason to believe today's immigrants will be any different.
Immigrants bring crime and violence to our cities and towns. According to the U.S. Chamber of Commerce, while the overall percentage of immigrants and the number of undocumented immigrants in the U.S. both increased sharply between 1990 and 2010, the violent crime rate in the U.S. during that time plummeted 45% and the property crime rate dropped by 42%. Studies have consistently found that immigrants are less likely to be incarcerated than native-born Americans and that there is a negative correlation between levels of immigration and crime rates.
 

Do you know, or know of, recent immigrants who now reside in your neighborhood or town? Invite them and your friends to a "meet and greet" in your home. Learn more about their backgrounds and dreams for their future, how they are adjusting to daily life, how you might be able to help. Be sure to include the children and young adults in the gathering. Perhaps this can become a regular event.
 
 Join the Faith 4 Asylum Nonviolence Campaign: Stop the Inhumanity: Click here.

Asylum seekers are migrants who flee their homes because of fear of violence or persecution. U.S. and international laws state that anyone has a right to apply for asylum in the United States. However, recent changes in U.S. immigration policy are preventing asylum seekers from waiting for their hearings in safety in the United States, instead forcing them to wait in locations in Mexico where they face violence, extortion, sexual assault and kidnapping. At least 636 people have been raped, kidnapped, assaulted, and even murdered, including 138 children.

This "Remain in Mexico" (MPP) policy violates domestic and international law by sending asylum seekers into dangerous situations without an adequate screening process, effectively denying them access to lawyers and interpreters and preventing many from receiving a fair day in court. More than 56,000 asylum seekers have already been sent to Mexico under this policy.
 

Support UNITED WE DREAM, the largest immigrant youth-led community in the country. From their website: "When you're undocumented, you face a lot of discrimination, and that creates a lot of fear. At United We Dream, we transform that fear into finding your voice. We empower people to develop their leadership, their organizing skills, and to develop their own campaigns to fight for justice and dignity for immigrants and all people. This is achieved through immigran:t youth-led campaigns at the local, state, and federal level." https://unitedwedream.org/about/#mission
Justice for Immigrants, a campaign of the US Conference of Catholic Bishops is another good resource. For educational materials and current campaigns, click here. https://justiceforimmigrants.org/
Week 5: Climate Crisis
Turning tears of anger for the destruction of the earth into acts of hope….
Action on climate crisis:
Act to change policy at the local, state, national level. The goals identified by environmental organizations are: 

Keep fossil fuel in the ground – stop any new fossil fuel infrastructure
Move to 100% renewable energy
Divest funds from fossil fuel industry.  Information and resources are at Fossil Free Funds: fossilfreefunds.org
 

Other actions can accompany—not replace—public action on policy. For example: stop single use plastics; decrease meat consumption; set goals for renewable energy use.
 
April 22, 2020 is the 50th Anniversary of Earth Day and environmental groups globally are mobilizing. Information, organizational tools, and education are at Earthday.org: Click here. Find a way to get involved. Join with others in your local area to organize events. Invite friends, family, community, co-workers to participate in the events.
 
Other resources for Earth Day:

Interfaith Power and Light has resources for Faith Climate Week, April 17-26, 2020.
A three-day Climate Strike is planned for April 22–24 by Fridays For Future, Climate Strike, Sunrise, 350.org, Fire drill Fridays, etc. Resources and action plans are available. 
Divest from fossil fuel and invest in renewable energy.
 

Education and Resources for climate crisis: 

350.org is building the global grassroots climate movement that can hold our leaders accountable to science and justice.
Catholic Climate Covenant: Care for creation; care for the poor. (Includes online text and resources for Laudato Sí on Care for Our Common Home by Pope Francis).
Catholic Nonviolence Initiative: Affirming the vision and practice of active nonviolence at the heart of the Catholic Church
#ClimateStrike (also #FridaysforFuture) is a movement that began after 15-year-old Greta Thunberg sat in front of the Swedish parliament every schoolday for three weeks, to protest against the lack of action on the climate crisis.
Climate Reality Project, a diverse group to solve the greatest challenge of our time.
Dear, John. They Will Inherit the Earth: Peace and Nonviolence in a Time of Climate Change. Maryknoll: Orbis, 2018.
GoodLands Project includes the Catholic Geographic System that can help multiple stakeholders thoughtfully plan how their land can promote environmental and social wellbeing.
Interfaith Power and Light promotes energy conservation, energy efficiency, and renewable energy.
Johnson, Elizabeth A. Creation and the Cross: The Mercy of God for a Planet in Peril. Maryknoll: Orbis, 2018.
Mitchell, Donald and William Skudlarek (eds). Green Monasticism: A Buddhist-Catholic Response to an Environmental Calamity. NY: Lantern Books, 2010.
Kimmerer, Robin Wall. Braiding Sweetgrass: Indigenous Wisdom, Scientific Knowledge and the Teachings of Plants. Milkweed Editions, 2014.
Powers, Richard. The Overstory.  WW. Norton, 2018.
Van Gelder, Sarah. The Revolution Where You Live: Stories from a 12,000-mile Journey through a New America. Oakland: Berrett-Koehler Publishers, 2017. 
Reflections from the artist, LMNOPI:
Street artivism is where street art and activism intersect. In a world where protest marches have become more like parades and being inundated on social media with petitions, memes, news and opinions can have a numbing effect, outrage fatigue can leave us feeling anesthetized and apathy can arise from the sheer enormity of issues confronting us. Street artivism can disrupt a person's day and it is the element of surprise that catches them with their guards down. This is a potential juncture of disarmament, where the emotional impact of a message can rewire and perhaps begin to change a person's perspective, if not at the very least; to plant a seed.
I believe that the emotional impact of seeing intense eyes staring out of a painting increases the emotional impact on the viewer. Eyes demand eyes to look. Staring into the eyes of our original caregiver provided a powerful imprint which remains as a sort of portal for entry into one's psyche. 
This collection of prints originated in my street art practice; either they were originally a mural or at one time they were a series of wheatpastes that found their way into the commons. The connecting motif can be summed up in one word: Uprising. 
Notes on process:
When I created this one I thought it particularly profound to have the words PRIORITY MAIL above the heads of these kids, two boys who walked all the way from Guatemala to the US Mexico border. If only they could be treated as well as priority mail, yet they are being used for the political agendas of the right wing oligarchy that is presently imprisoning them in detention facilities. Many are separated from their parents never to be reunited.
In the print edition, I utilized a topographical map of the southern border. Many of the people attempting to migrate and flee the effects of the climate crisis and violence in their countries are Indigenous and their relationship to the continent pre-dates borders.
The pattern in the older boy's shirt suggests the border fence in Playas de Tijuana, which extends into the Pacific Ocean. If you follow the boundary line, which is the Rio Grande, it cuts through the child's chest, enters under his chin and comes out through his forehead.
Autumn Peltier is an Indigenous youth activist. At 14 she had the honor of being named Anishinabek Nation Chief Water Commissioner. She is from the Eagle Clan Anishnaabekwe from Wikiwemikong Unceded Territory in northern Ontario. She's been advocating for water since she was 8 years old.
The map in the background shows the so-called border between the US and Canada and the islands where Autumn lives. The Anishnaabekwe have made their home for thousands of years and they continue to resist ceding their sovereign rights to Canada. 
LMNOPI has been a community organizer, humanitarian worker, and civilly disobedient activist over the last four decades, standing elbow to elbow with the people and communities she depicts in her work. She is a traditionally trained painter and printmaker dedicated to street art activism. Her skillful brushwork and signature palette lend her works of art an unmistakable timbre. A terrain of strength and humor, defiance and resilience, love and bravery emanate from the faces of the women and children she paints. 
Her print work is part of a historical archive of Occupy artists titled Occuprint which is in the collections of many distinguished universities, museums and libraries such as Harvard University Art Library, University of Applied Arts Vienna, Library of Congress and the Museum of Modern Art. Her public works can be found on the streets of cities across the United States, Mexico, France, the UK, Germany, Canada, and Haiti. 
LMNOPI relocated to the Green Mountains of Vermont in the fall of 2018 and she continues to amplify voices deeply rooted within the Economic, Social, and Climate Justice Movements. She remains a dedicated and stalwart accomplice to the leaders of Indigenous and Youth led activations.