Ever Changing, Always Changeless: 
Exploring the Spirit of Monasticism
Sister Joan Chittister wrote in The Monastic Heart: "It is the Spirit that leads us on. It is the nature of the Spirit behind it that gives a movement life. … It is the Spirit of Monasticism that not only keeps it alive but keeps it changing changelessly." 
As the tradition continues to change changelessly, how might the spirit and stories of Benedictine wisdom inspire us anew today? Join us as we explore ancient questions with contemporary writers this summer.
This webinar series is open to all, no Monasteries of the Heart membership needed. Each webinar costs $30.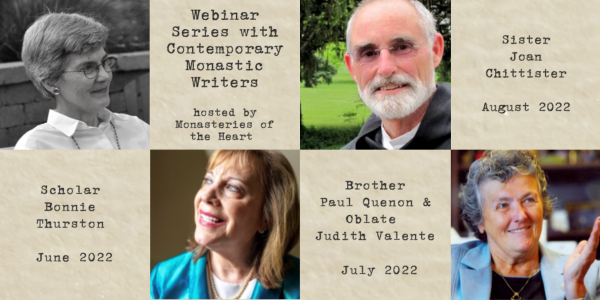 Scholar Bonnie Thurston on Saint Mary of Egypt
Wednesday, June 15, 2022 at 7-8pm ET
Bonnie Thurston is a monastic scholar and author or editor of 23 theological books. She is an internationally known Thomas Merton Scholar, and her doctoral dissertation was one of the first on Merton. In 2021, she published Saint Mary of Egypt: A Modern Verse Life and Interpretation. In this talk, Bonnie will resurrect the relevance of St. Mary of Egypt, "the third Mary" of great renown, after Mary the Mother of Jesus and Mary of Magdalene, whose story has surprising lessons for us today.
Oblate Judith Valente and Brother Paul Quenon on How to Be
Wednesday, July 20, 2022 at 6-7:30pm ET
Judith Valente is a Benedictine Oblate, journalist, and contemporary religious writer, whose work translates Benedictine teachings into everyday life. Paul Quenon, OCSO, is a Trappist at the Abbey of Gethsemani, where he entered in 1958 and had Thomas Merton as a novice master and spiritual director. In 2021, they published How to Be: A Monk and a Journalist Reflect on Living & Dying, Purpose& Prayer, Forgiveness & Friendship. In this session, they will offer reflections on the monastic practices of letter-writing and spiritual friendship.
Sister Joan Chittister on The Monastic Heart
Wednesday, August 24, 2022 at 7-8pm ET
Joan Chittister, OSB is a Benedictine nun, beloved best-selling author, and gifted spiritual guide for contemporary spiritual seekers. In 2021, she published The Monastic Heart: 50 Simple Practices for a Contemplative and Fulfilling Life, which carries the weight and wisdom of the monastic spiritual tradition into the twenty-first century. After speaking on The Monastic Heart around the world for the last year, she returns home to Monasteries of the Heart in August and shares fresh insight on ever ancient and ever renewing teachings.