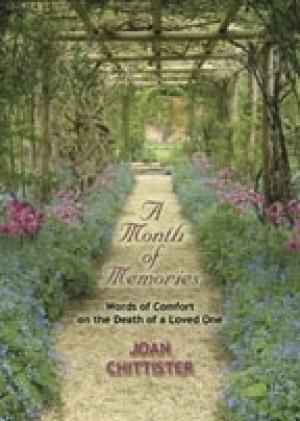 A Month of Memories: Words of Comfort on the Death of a Loved One
Shipping: U.S. orders only
Product Description
How do you deal with grief? With loss? With death? What do you say to someone who has lost a loved one?
• A companion and help for the stages of grieving • Designed to fit inside sympathy cards • Includes two poem/prayers
Share this collection of short meditations with anyone who is suffering the pain of grief and loss. Artfully presented in a color fold-out card, these 30 quotes from the writings of Joan Chittister touch the soul and lead to healing.
Fits inside a standard sympathy card: 3.875" x 5.25" folded, opens to 15.5" x 5.25"
FROM ONE OF OUR READERS:
I received a copy of your "A Month of Memories" today and was touched by the words and thoughts.
My wife of 47 years died in November, 2012. Our priest (Episcopal) read a poem by Mary Elizabeth Frye at her funeral entitled "Do Not Stand at my Grave and Weep."
That poem means a lot to me. Your words also mean a lot to me; I will keep them and re-read them often. Sincerely, J. O.
1-9–$1.00 ea.
10-24–$.90 ea.
25-99–$.70 ea.
100+–$.50 ea