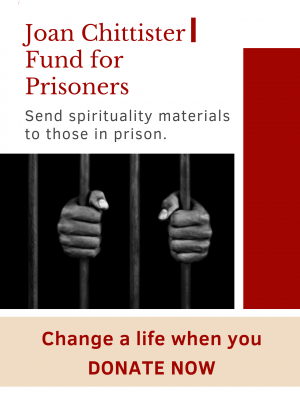 "Prisoners are the most forgotten people in society and the last served in Christianity. For all our sakes, I'd like to change that." —Joan Chittister
You can change the life of a person in prison.
More than two million U.S. adults are currently in prison. That's nearly 1% of the entire U.S. population — almost one in every 100 of us — who will spend our lives behind bars. Thanks to your efforts, the Joan Chittister Fund for Prisoners is the only help toward a meaningful life that many of these prisoners ever receive.
Your gift will impact the lives of those in prison through:
• Free Spiritual Materials
• Forming Spiritual Communities
• Prison & Halfway House Retreats