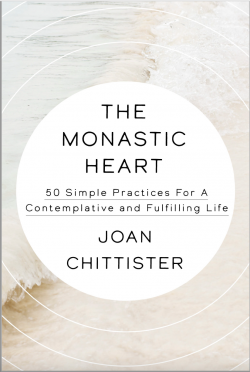 The Monastic Heart -- Christmas Sale
Shipping: U.S. orders only
Product Description
Retail price is $26.00. Save $8.00 when you buy now. Offer good through December 12.
This book carries the weight and wisdom of the monastic spiritual tradition into the twenty-first century. Sister Joan leans into Saint Benedict, who, as a young man in the sixth century, sought moral integrity in the face of an empire not by conquering or overpowering the empire but by simply living an ordinary life extraordinarily well. This same monastic mindset can help us grow in wisdom, equanimity, and strength of soul as we seek restoration and renewal both at home and in the world.
At a time when people around the world are bearing witness to human frailty—and, simultaneously, the endurance of the human spirit—The Monastic Heart invites readers of all walks to welcome this end of certainty and embrace a new beginning of our faith. Without stepping foot in a monastery, we can become, like those before us, a deeper, freer self, a richer soul—and, as a result, a true monastic, so "that in all things God may be glorified."
Discussion Guide Available. Click here
For more information on this book click here.